About Us
All Appliance Service Company is a family-owned service company that started in 1979. Each of our technicians has been selected based on talent, ability to diagnosis and repair, as well as compatibility with our high standards of customer service. Many of our loyal customers have come to rely on us for over 30 years.
You will be pleased with our level of professionalism.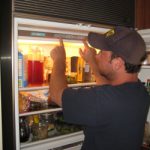 Our technicians will give you an honest assessment of the condition of your appliance. We love modern kitchen and laundry appliances and will keep them running correctly for you.
We can usually offer same day next day service in Evergreen, Conifer, Denver and surrounding areas.
Our Promise
All work FULLY guaranteed. Parts guaranteed per manufacturer. Service call guaranteed for 90 days. What does this mean to you? No additional service call charge if the repaired unit needs servicing again even if it is a different problem.
Schedule Online Now

"We received great service from All Appliance Service Co. in Evergreen-Denver. They were efficient, knowledgeable and friendly. The price was very fair. The receptionist was also professional and friendly. Thank you for providing exceptional service!"